2010年 06月 29日
| | |
| --- | --- |
| Grossglocker Trophy 2010 -- Miss. Brownie -- | |
On Friday, we went up to the goal point for Johnny's test run to check the road and carburation, the scenery was outstanding, most part of mountains were still covered with snow and I am sure you will not often see this kind of real picture in your life, and even with a works BSA!
雪山をバックに、ワークスマシンとの稀有な写真を撮ろうとした瞬間、観光客がマシンの回りに集まってきた!白い山々と、BSAの雄姿に一般人も魅せられるのかと感心したのも束の間。実は、その後ろにひょっこりと出てきた、ふさふさしたアルプス・マーモットを写真に収めようとしたのでした。見る見る間に霧が雪山を覆い隠し、後に残されたのは霧ばかり・・・と思ったら、再びマーモットが登場しBSAに近づいてくるのでその様子を連写して気を晴らしたのでした。でも、こんな写真も多分滅多にとれないでしょうねー、だから満足です・・・?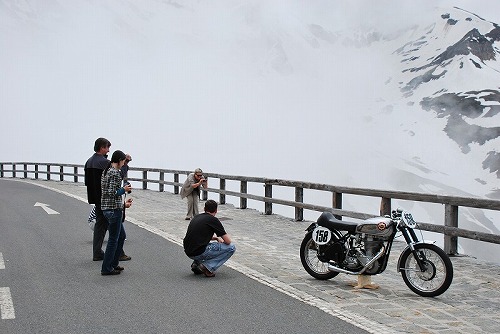 The Daytona was moved to near the wood fence and OK, let's shoot the beast, move out guys! And yes, that was the moment I was going to take one of the most exciting motorcycle photos ever BUT, tourist started gathering around all of the sudden. I was so impressed as even for ordinary tourists, the combination of the white mountains and the Daytona pulled the crowd.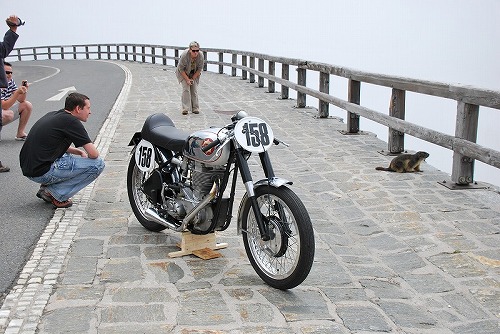 However, after a few more seconds of watching, noticed their eyes were slightly "off" from the machine and there was a little, hairy creature was sniffing around behind it, so people gathered to catch its figure in their cameras! He/She was a marmot! By that time, fog was coming very quickly to shut the curtain to hide the beauty of the white world but all I could do was standing and watching people and the marmot from the distance...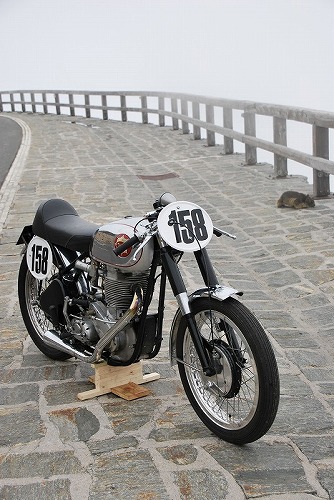 After the marmot charmed people enough and disappeared, all you could see was just fog, fog and fog. Then finally, the moment was set up for me to shoot the curtain and the racing machine. But, the marmot, let's call it as,,, Miss Brownie, she jumped back again, was sniffing and coming closer to the art of metal, at least she was interested in the works machine! Probably I was lucky to take these photos with Miss. Brownie, don't you agree?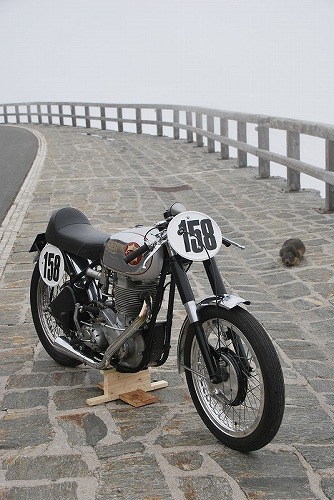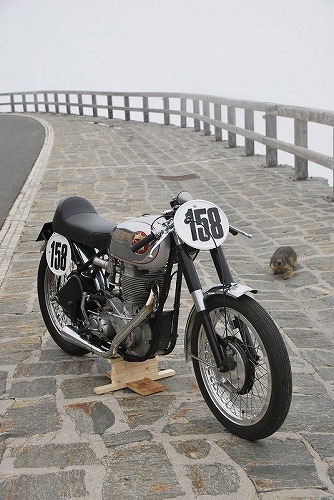 Thank you Miss.Brownie for your interest.
To be continued...