2011年 06月 06日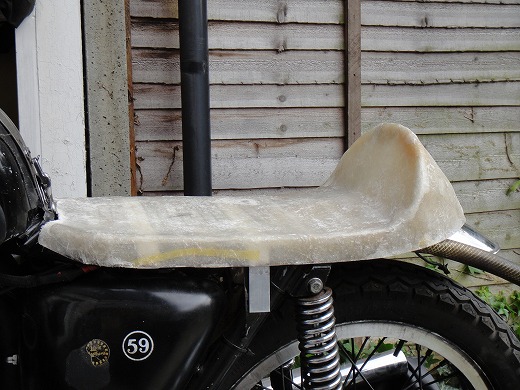 こんな感じに仕上がってます。ダンボールで型をつくったにしては上出来!? 軽くペーパーをかけましたが、まだ表面が粗いのでテープなどで全体を覆ってしまわないと指に繊維がささります。アフターマーケットパーツであれば良いのですが、シングルシートに見せてぎりぎり2人乗りできるものが一般的に無く、またオイルインフレーム用となると更に難しいですね。実は、T140用で似たシートを譲っていただいていたのですが、シートレールの高さの関係でバランスが合わず渋々?製作となった次第です。ちなみに、ワイドラインのフェザーベッドよりもさらに幅広なのです。
You have never imagined that the seat base made from a piece of card board had become like that, haven't ya?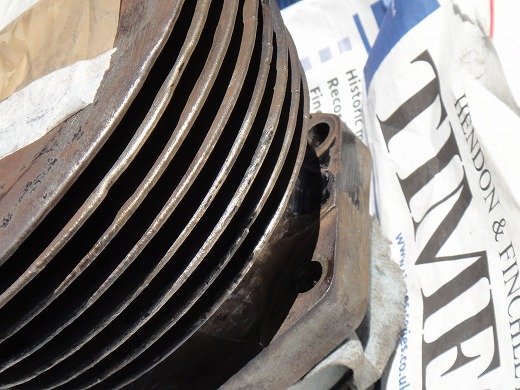 Before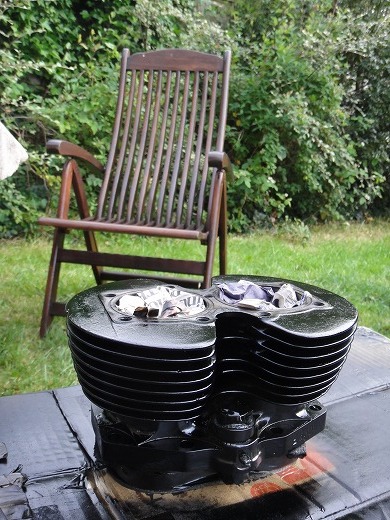 After
画像だけだと何て簡単に見えるんだろう・・・
These "before and after" photos don't show the amount of work and time I had to spend! Looks like it was done in 5 mins...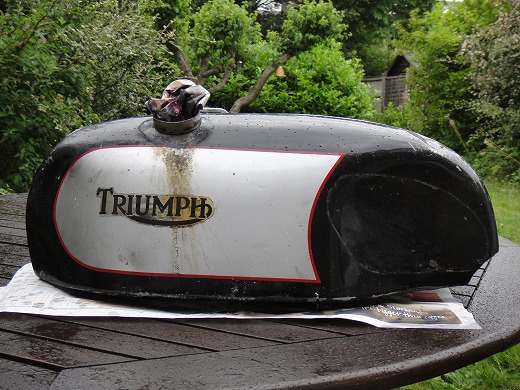 Before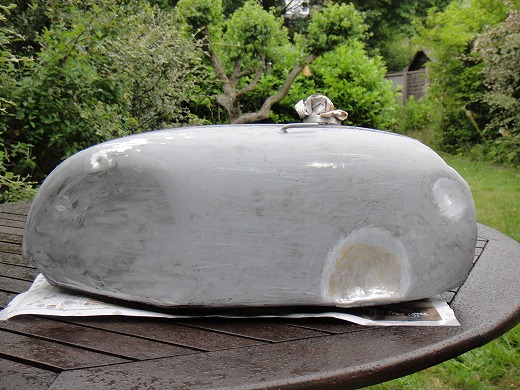 After
様々な思い出(転倒)と共に歩んできたタンクともお別れです。今は内部にコーティングを施して、塗装を剥離した状態。タンクの継ぎ目からガソリンが滲むため、最近の給油はいつも7Lと大容量のアルミタンクの意味が全くありませんでした。苦笑 これからパテで凹みを修正、ペーパーを経てリペイントへ。何色にしようかなぁ、と考え中です。British Racing Greenもアツいですね。
Finally, the neglected tank has been on its treatment! I haven't decided which colour to choose, British racing green maybe? There was also a leakage from the top of the seam so I could only put 7L in the huge tank. This time a sealant has been applied, should work ok.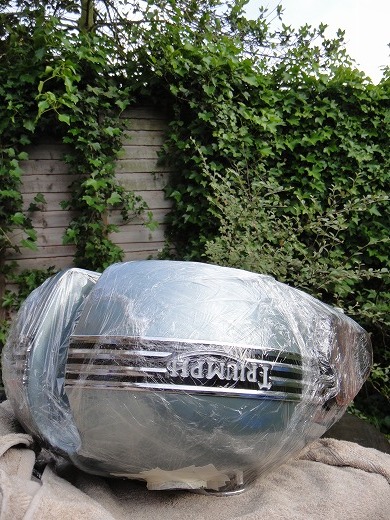 フォーバーも実は家の子になっておりますが、それはまた改めて。ちなみにサンダーバードではございません、まだスウィングアーム時代からは遡っておりませぬ。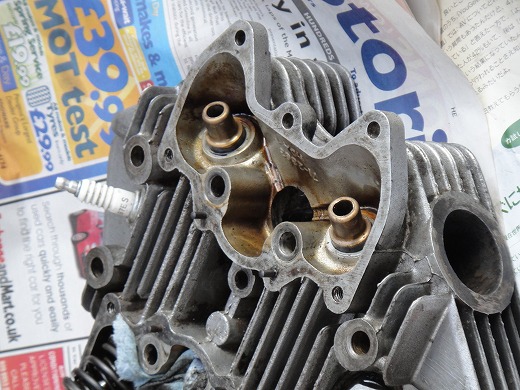 バルブも交換予定。ガイドはできればそのままいきたい・・・
The valves will be changed, hope the guides stay there!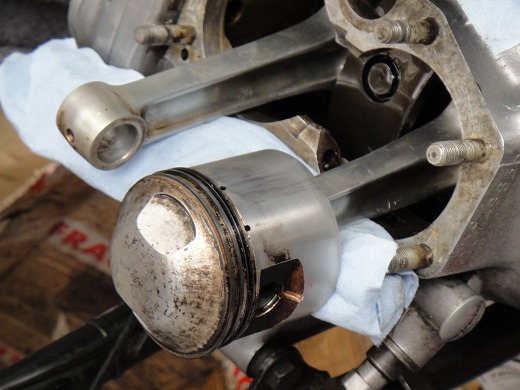 スモールエンドにガタあり。ピストンを外すと、ブッシュも一緒に抜けてきた! オーバーサイズのブッシュが必要かと思いましたが、計ってみるとスタンダードで大丈夫そうでしたので取り寄せ。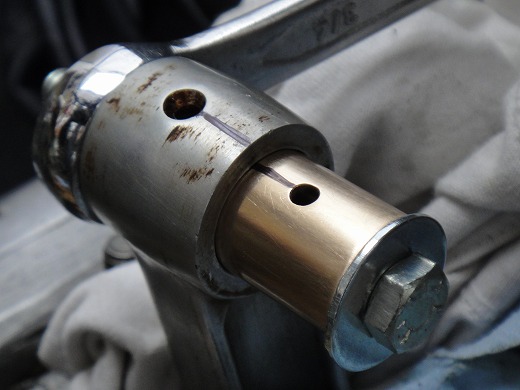 そしてようやく装着完了。クランクケースを割るのか!?と一瞬血の気が引きましたが、こういう方法がちゃんとマニュアルに記載されてました。(ちなみにこれは仮装着なのでグリスは塗ってありません。) 後は、ピンが程よく入るようにホーニング。
One of the small ends had a play, took the piston off then the bush was also come off together! I wondered if I needed to get a special over sized bush made but the standard one was fine according to the measurement.
他にも諸々ありますが、ひとまずざっと経過を。ベストシーズンを逃す前に完成せねば・・・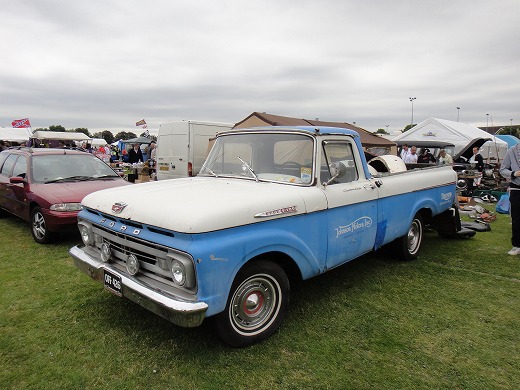 先日ぶらっと遊びに行ったイベントで展示されていた一台。ジョンソンズ モータースで実際に使われていた車両なんでしょうか?そういえば後期のT100RRのカラーリングと似てますね、同年代なんでしょうか?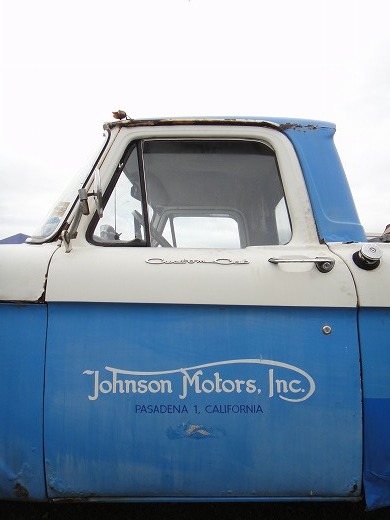 This Ford was on display at the Enfield pageant. Nice patina.
自分のバイクのことで頭の中が一杯です。先日アルコール&ドラッグ依存症についての文章をすべて「バイク」に置き換えて読んでみるとあら不思議、結構あてはまってしまいちょっと怖くなりました。笑
様々なものをきちんと紹介しておりませんが、こちらも次回にバシッと紹介させていただきます。すでに皆さん購入された後かもしれませんが・・・3度の飯を食っている時にもバイクのことを考えている貴兄に。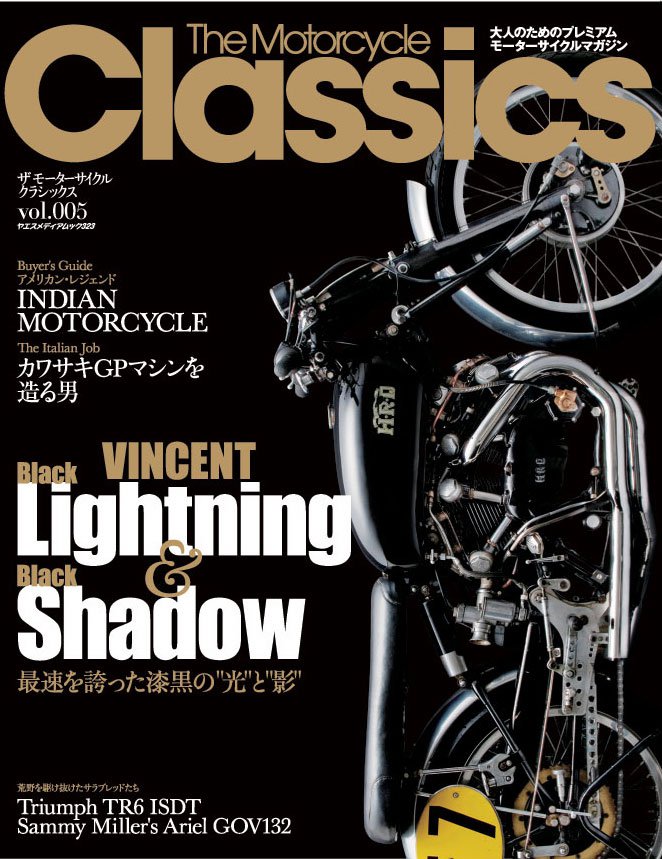 Motorcycle Classics Vol.05
今回はサミーミラーさんのアリエルGOV132とISDTで使用されたTriumph トロフィーの特集に関わらせていただきました。是非ご覧ください。